SiteGround has been breathing fresh life into the hosting industry since 2004.
If you want my complete take (good, bad and ugly), then check out my review on the complete hosting service.
As for this post, let's take a deeper dive into how SiteGround supports WordPress hosting.
SiteGround + WordPress = A Power Couple
You ever meet one of those couples who have "over-achiever" written all over them? You know, the husband is a lawyer, wife is a neurosurgeon.  Yeah, they probably give birth to an astrophysicist child.
Well, SiteGround and WordPress are like that power couple.
How is that now?
WordPress:
Powerful, open-sourced blogging software that literally gets better every month.
It's free. Forever.
You can power small blogs or large e-commerce sites. It's really scalable.
SiteGround:
Gives you an incredibly inexpensive hosting package, starting a $3.95/mo.
Gives you a free domain name when you sign up.
Provides a one-click install of WordPress. No geek knowledge needed on your end.
Together, they are a power couple. It's a low cost way for you to burst onto the web like a boss.
Quick Installation & Set up
It literally took me less than 7 minutes to get started, from scratch. I'm talking soup to nuts here. I started with no website and then rolled out a fully functional website with SiteGround WordPress hosting, in the time that most people spend on the toilet. That's cool.
After purchasing a hosting plan, you can setup WordPress in three steps:
1. Find the cPanel – Just click on the cPanel icon. This is basically your admin area that will let you manage any domains you have hosted with SiteGround. Find the icon for "Wordpress Install"

2. Use the One-Click Installer – SiteGround uses a script called Softaculous to install WordPress for you. In the old days, this is what you had to do to set up WordPress:
Setup a MySQL database, username and password
Manually install the WordPress software via FTP
Configure a WordPress admin username and password
Now, with SiteGround hosting, here's what you do:
Click the WordPress installer.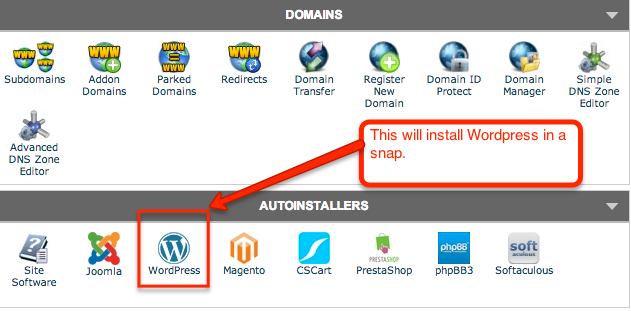 Yep. That's much better. Now granted, you'll need to fill out a few fields, like your email address. But most of them are filled out for you. So just click it and go.
3. Login to WordPress – It doesn't take long for your new WordPress site to render live out there on the Web. At this point, you can login with the username that you set up. Here you can choose a default theme, or start adding customizations of your own for design. Or, you can start adding new pages or blog posts.
The crazy part is, you haven't written a single line of code, and SiteGround took care of all the dirty details with their one-click installer. Yet, you have a website that is now live and published for the world to admire.
Autoupdates for WordPress
As a part of their support for WordPress, SiteGround will autoupdate your WordPress instance whenever a new version comes out. This doesn't sound like much, but believe me, it's a huge help, especially if you are running multiple websites on the same hosting plan.
When you continue running an old version of WordPress it actually leaves your website vulnerable to hackers. Several of my websites have been hacked this way. It's not fun. Nobody wants to come back to their website and see a huge Viagra ad plastered on the homepage.
Ain't nobody got time for that.
Staging for WordPress
Although WordPress is an awesome platform (part of the power couple, remember?), it's not without it's weaknesses.
One of those weaknesses is a lack of any native staging features.
What?
Let me repeat that in English. If you want to make changes to your website online, the entire world will watch you along the way. There's no way to save drafts of your progress when it comes to the design stuff. The changes will happen in real-time.
For most beginners, this means that you are worried about making changes to your site. That sucks. A good site is always refining itself.
Luckily, SiteGround offers a staging platform that lets you work on a "staging server".
Think of it this way, it's a place for you to test things out and make mistakes before bringing everything out in front of the world. Kind of like a rough draft.
But it's also going to serve as a handy little backup in case anything ever goes wrong with your site. Pretty cool.
Snazzy Default WordPress Themes
Default themes are notoriously spartan and/or cheesy. Not so, with SiteGround. These guys actually went through the effort of providing some respectable themes right out of the box.
If you aren't familiar with themes, they are basically skins for your WordPress site. They are pre-made designs that you can use for your website without having to hire a graphics designer or web developer.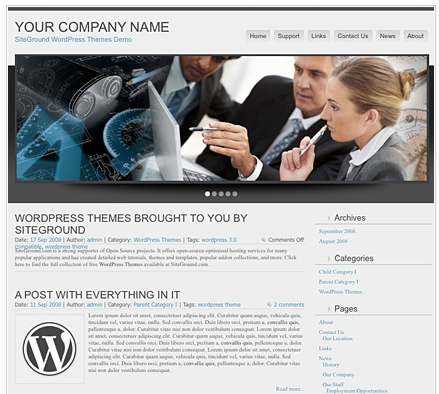 Of course, if you want to build something custom, you can still do that. But these free themes are a nice way to get started, especially if you are just trying to test out an idea for a new blog, store, etc.
Go forth, and Press Some Words!
Alright, that was kind of lame. But the integration with SiteGround and WordPress isn't. If you want to grab a free domain name with a hosting plan that's 60% off, grab an account with SiteGround. You'll be able to launch your website in no time.

Bonus: I'm showing you how to set up a WordPress site in 7 minutes or less, from scratch. I'll also give you 10 free WordPress themes for download (a $300 value). Check it out here.