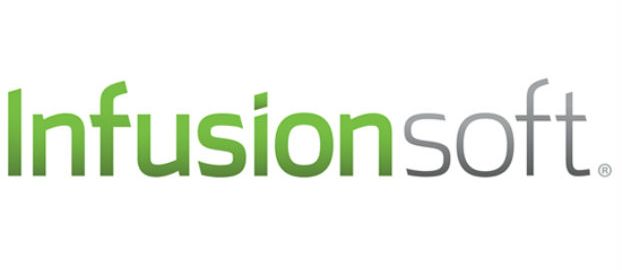 ---
An honest take on Infusionsoft sales & marketing software.
The Skinny
Infusionsoft is sales and marketing software that has become a top choice among entrepreneurs and in-house marketing departments. The full solution has a bunch of bells and whistles: CRM, contact management, marketing automation, e-commerce, oh my! It's cool. But it may or may not be the right fit for you. Let's dig in.
Updated: May 2015
---
My review of Infusionsoft
The kind folks at Infusionsoft have plenty of marketing materials available for you peruse. That's not what you'll find here. I'm more concerned with helping you determine whether this is the right fit for your business. One thing I do want to call out early…success stories. It's uncommon for a business to be able to showcase this many transparent review from real customers. Here are some of my faves:
Check those out when you get a chance. Now let's get down to the nitty gritty.
A little background check
I hear that prudent online daters conduct background checks on their dates before meeting up in real life. Although I've been happily married for quite some time, I think it pays to apply that same scrutiny to Infusionsoft.
After all, you aren't just getting into a relationship with a piece of software with all of its features. There is a real company behind the scenes that you have to deal with along the way.
So what do we know about Infusionsoft?
Here is a little dating profile to help us along…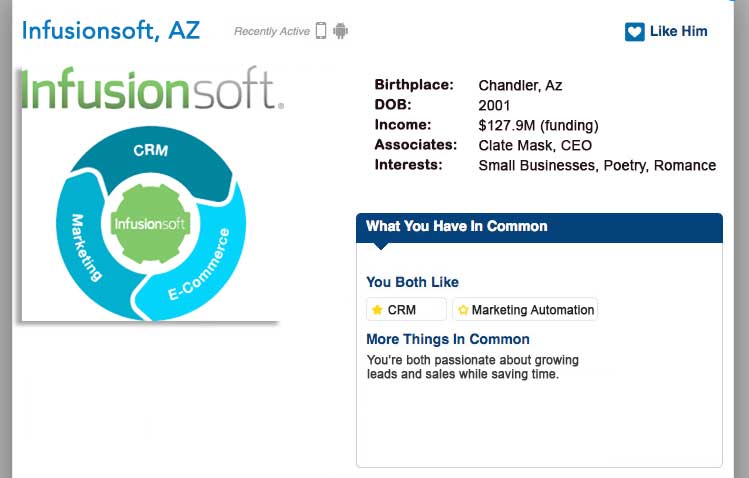 Infusionsoft has been around for about 14 years, is based in Arizona, primarily serves small businesses who are looking to level up their digital marketing efforts, and yes…even likes poetry and long walks on the beach (we can only assume).
They are 25,000 customers strong.
In the most recent round of funding they took on $55M in capital in a round led by Goldman Sachs, bringing their total funding up to $127.9M. Surely, they can afford to pay for dinner. More importantly, it's safe to say that they won't be going away anytime soon.
How much does it cost?
Infusionsoft is going to cost you more than a trip to the bar, but less than your first born child.
Allow me to clarify.
They aren't coming in at an enterprise price point. The $2,000-$3,000/mo range is occupied by the HubSpots and Marketos of the world. It costs $199 to $379 a month depending on how much you need to use it.
Check out the full pricing details here.
The main differences between the packages boil down to the volume of contacts, email sends, and team users. Oh yeah, you'll need to spend on the higher end if you're going to be use their e-commerce features to sell products.
Handholding…I mean…"Kickstart" Services
In addition to the monthly price, you can also take advantage of the Infusionsoft "Kickstart" services. For a one-time fee of $1,499 (the price was just lowered), you get the following:
1:1 help for understanding the software
Migration help – for those of you who are going to be transferring contacts from another CRM or solution (this is actually super valuable)
Customized strategy and next steps to help you get the most out of Infusionsoft and start generating more leads
Just to be clear…that fee doesn't cover any of the monthly price to use the software. It's completely separate. Do I recommend spending the money? Look, if you are new to online marketing, the glossary of new terms and concepts can be overwhelming. WTF is a landing page and how's that different from any other web page on the interwebs?
I feel you. I'd say that the training is worth it, if you are un-familiar with this peculiar world. If you know that you won't use the software without some accountability, this training will suit you well. It's kind of like a bootcamp in that regard.
I'd also recommend going with the extra help if you have a lot of data to migrate to the new system. Adopting a tool like Infusionsoft isn't worth going to jail for…and losing valuable data along the way could drive someone to commit one of many different crimes.
If you have been at these marketing shenanigans for awhile, possess a solid understanding of inbound marketing, lead nurturing, and other recently minted terms like that, I'd tell you to skip the extra services and jump right in. If you're like me, you learn best by doing and then reading when necessary.
If you decide to forego the extra services, you won't be left hanging. Infusionsoft offers free support during business hours or an upgrade to 24/7 support. No matter how advanced you are, there's a good chance you'll be using it at some point.
Is the price…right? If you are a pre-revenue, bootstrapped startup without any money to invest, you're going to need to get your butt in gear and find traction before spending a bunch of money that you don't have. But this is basic business advice. I'd tell you that about any expenditure, not just Infusionsoft.
If you do have revenue and/or money to invest over the course of 6-12 months, then Infusionsoft may be a good fit. If you're looking for a quick fix to jumpstart sales in the next 6-12 weeks, this won't be your silver bullet.
Of course, there are outliers.These are most likely customers who have introduced Infusionsoft to their existing marketing mix, producing massive results in a matter of weeks. But if you are just launching a product, still don't have much organic traffic or any substantial content to speak of, this won't be what gives you a quick win.
The good news is that there is no annual commitment. So, if you do end up needing to pivot your business model or marketing approach, you aren't locked into a long-term relationship. Also, the solutions are tiered in such a way that it can grow with your business.
If you don't need e-commerce features, just start with the lowest plan and as your contacts grow, you can upgrade to a higher Infusionsoft package. If you're doing it right, as you collect more contacts and send more emails you will generate more revenue.
The added cost becomes a no-brainer when it comes to supporting a steady stream of new business.
Bottom line: If you decide to start using Infusionsoft, be committed to mastering it and letting it run for at least 6 months. Depending on your buyer's lifecycle, you may want to extend that even further.
How Does Infusionsoft Make Me Smile?
There is a lot about Infusionsoft that you will love. I mean, there's a reason why they've grown past 25,000 customers.
Visual Campaign Builder
I'm a visual person. I like to see things laid out with pretty icons. Also, I'm less of a linear thinker (A,B,C) and a little more spontaneous (A,D,B). For this reason, I really like the way Infusionsoft approaches their campaign builder.
First things first a "campaign" is simply a series of events within your effort to turn a lead into a sale. Once a potential customer enters your marketing ecosystem, through a form, subscription, etc., it's your job to gently guide them along a path to making a buying decision.
Infusionsoft simplifies this process with a drag and drop system. Want to schedule an email to be sent the day after a signup? No problem. Drop the email icon onto the grid and connect the dots.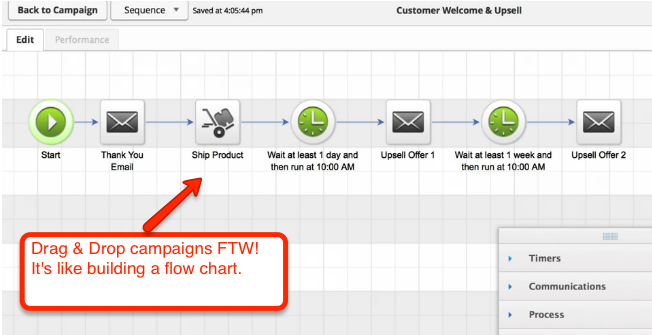 The visual layout not only speeds up the process of building a campaign, but it helps you spot where there might be logical gaps in the process. That is, steps that are missing, like objections that you haven't yet overcome, or questions left unanswered.
Lead Scoring
Have you heard of the 80/20 principle? It means that 80 percent of your outputs are caused by 20 percent of your inputs. Applied to sales and marketing, this means that 20 percent of your efforts will result in 80 percent of the sales. That's where lead scoring comes in.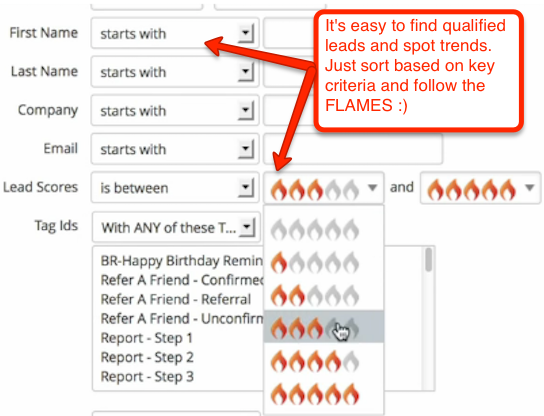 Infusionsoft does a fantastic job of picking out who is most ready to buy. They assign a score to each contact based on how they have responded to your campaign or interacted with your content. The immediate benefit is obvious: you are able to target your messaging and offers to the people who actually care and are ready to make a buying decision.
But in my opinion, the real power of this lead scoring system is what you can take away for long-term strategy. Since every contact has a history in the Infusionsoft platform, you can trace back which campaigns influenced their journey to becoming a "hot lead".
Was it a particular blog post? Email auto-responder? Your lovely face in a video? Lead scoring helps you retrace those steps and identify what's working. Then it's your job to rinse, wash and repeat. Scale what works and ditch what doesn't. With most homegrown, hack-job solutions, you get two data points: when someone entered your funnel and when they buy.
Lead scoring shows you what happens in-between and this has major benefit for your long-term marketing strategy. The sheer volume of Infusionsoft's customer base also works in your favor in this regard. The company has a lot of data to work with, and this scoring system will only get better with time.
24/7 Chat Support
Can't find something you need? Stuck on a certain feature? Just send a message. You will probably get a response within five minutes of reaching out. The 24/7 promise is legit…If you find yourself in a different timezone, you don't have to wait until some ungodly hour to get help.
Don't expect to derive advanced marketing strategy or sage advice from these chats. You're going to want a consultant for that. You will, however, be talking to folks who know their product inside and out. Time is money…seriously folks, it is. It's not worth getting stuck on how to format a line of text. Just ask, get an answer and move on with yo bad self.
E-Commerce Goodies
Payment processing should be a frictionless task. You shouldn't have to think very hard about how to charge a customer and deliver the goods. This is where Infusionsoft really delivers. The software is flexible enough for you to turn on offers like a free trial or a promo code in a snap.
If this sounds like small potatoes, it's likely that you never had to handle this the old fashioned way. I remember paying a developer top dollar to build a homegrown payment processing solution. But I didn't feel like I could try new marketing approaches like a discount or new pricing scheme, because I had already invested so much in the existing framework.
Offers and pricing models need to be agile so that you can test what works best for your audience. Infusionsoft lets you do that in minutes. In addition to payment processing, Infusionsoft lets you intelligently market to existing customers. This is where many marketers and first time business owners drop the ball.
The success of your business relies heavily on your ability to retain customers and increase the lifetime value of each one. Infusionsoft helps you manage up-sells along with order fulfillment and delivery.
Referral Management
Not every business model is a good fit for this approach, but if you are, MAN is this feature is helpful. The referral program management is yet another module that would cost thousands to develop on your own. Infusionsoft lets you reward people for recommending your product or service. By reward, I'm talking about paying out a commission.
You are in complete control of the commission amount and the any other terms that are important to your program's success. The beauty here is that Infusionsoft will keep track of all these commissions (which eventually become just another line item expense on your books. Without this level of management, your accounting responsibilities can grow to nightmarish proportions. Not to mention, being worried about accidentally stiffing a partner on a commission because of a technical glitch.
Best of all, this portal lets you post marketing materials to help equip partners for success. These might be tutorials, best practices, or anything else that you want to pass on to help them generate more traffic. The key here is knowledge transfer, and Infusionsoft makes it easy to keep this type of content separate from the rest of your marketing materials and content assets.
Social Lead Generation (GroSocial)
Infusionsoft acquired a company called GroSocial and folded it into the feature set. I see it as an extremely powerful complement to the rest of the Infusionsoft platform.
Social media is a marketing channel that a lot of small business struggle to engage the right way. Your primary goals on social should be to "act human". That is, it's a place for your brand to engage in a personal and meaningful way with current customers and future prospects.
I see most companies struggle to find the balance. On one hand, some small businesses are too "sales-y". All of their Facbeook updates, Tweets, LinkedIn updates, etc. are self-centered and promotional.
On the other hand, some small business fail to tap this marketing channel for lead generation. They shy away from any lead generation efforts and end up missing out on an incredible growth opportunity.
GroSocial helps you leverage the power of social media for lead generation:
1. Run contests
2. Run promotions
3. Schedule and automate your social media publishing
4. Monitor those channels from one dashboard
5. View analytics and performance metrics for your social media efforts
Multimedia Campaign Management (even offline)
I'm not a fan of buzzwords, but "integrated marketing'" is one that I'll let slip now and then. Integrated marketing is the practice of marketing to your audience through a variety of different media in an organized fashion.
It's a powerful way to maximize your exposure to prospects with the right message at the right time.
I appreciate that Infusionsoft understands not all marketing happens online (crazy, right?). In fact, one of my marketing automation clients had a wildly successful "Fax blast" campaign. Faxes? Are you kidding me? But that's so…1990!
Here's the deal: marketing is all about reaching new customers where they spend their time. Some markets respond very well to offline campaigns like direct mail, calls, and yes…even faxes.
Infusionsoft supports these efforts and lets you bring them into your marketing ecosystem. In other words, you don't have to divorce online and offline efforts, they can both be accounted for in your campaign builder.
Want to distribute voicemail messages to a list of phone numbers? You can do that with Infusionsoft. Need to tie in direct mail as a crucial step in one of your campaigns? Done. Just pop it in with the visual campaign builder.
What kinda sucks about Infusionsoft?
Nickel & Diming
Most of what you need to operate your business on Infusionsoft comes right out of the box. The software is extensive, but that's a double edged sword. A lot of the bells and whistles are dangling out there like a proverbial carrot on a stick. You pay more for things like:
Demand card follow ups
Text messaging
Charted reports
More detailed analytics
You really need to know what you are getting into with the software, because they charge extra for anything that is not considered "essential" to the operation of the software. The nice thing is that you can get by without the extras.
Truthfully, if you going to use them, they reflect only a marginal cost that you can very quickly justify (or not) after turning them on.
But still, it would be nice to have an all inclusive price so that you can try things out without having to make a financial commitment.
Barebones Reporting
Your marketing strategy relies heavily on accurate and extensive reporting. Sometimes having one small part of the picture is just as bad as having the wrong data. They can both lead you to make the wrong decision.
With Infusionsoft, out of the box, you get only very basic reporting. Things like conversion rates are going to cost you extra. They will point you to a 3rd party solution that acts as an add-on for Infusionsoft. Unfortunately, that comes with another $49/month fee on top of what you're already paying.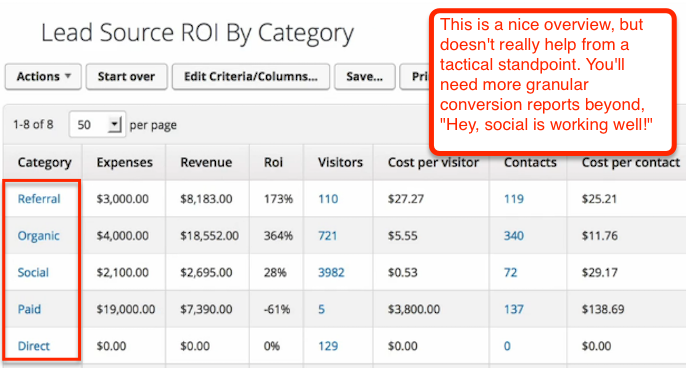 I have a feeling that Infusionsoft will improve in this area. It's not for lack of data collection, that the "stock" analytics is sub-par. It really comes down to how much of the data can be accessed on your own. If you're willing to do some back of napkin calculations on your own, you'll be fine. Or, if you're willing to cough up some extra money to have fuller reports, that will work too.
But this is definitely an area that needs improvement, and I think it could be an Achilles heel for Infusionsoft, especially among more advanced marketers who are accustomed to having all of these metrics at-a-glance.
Customer Service
Ok, although the 24/7 chat support (an extra) is really nice, you will probably have to speak to a human being at some point. That's when things might get a little hairy for you. The truth is, your questions are first going to be evaluated by a non-technical person. That is, someone who has had adequate training on the product and deals with lots of customer questions every day.
They are going to be a great resource if you have a black and white question of how to "set up this $@*&%& email campaign!". But, if some of your campaigns aren't firing right, or your lead tracking has gone awry, these types of questions are probably going to find their way into a support ticket.
The support tickets are being answered by a smaller group of folks (God bless them), who have extensive technical training. They are the ones who can take a deep dive into the code or whatever might be causing the bug in your instance. The problem is, it takes a LOT longer to get a response from one of these people.
Frankly, some of these technical problems can be the source of lost revenue, especially if they are happening in the midst of a new product launch, or some other major promotion. You need an answer in hours, not days, and unfortunately, that's how long it can take to get a response from a technical person.
Is Infusionsoft right for you?
At the end of the day, this is something only you can answer. I can tell you that Infusionsoft is FANTASTIC for a lot of businesses, especially those with physical products or ones that deal heavily in B2B sales. You stand to gain…a lot. There are a lot of success stories that just blow me away. Again, here are some of my faves:
I'd recommend speaking to a rep over the phone, but keep in mind, they aren't going to lead off with the negatives that I described above. However, they can adequately address some of your questions, fears, or specific applications to YOUR business and industry.
Like any system, I'll tell you this: you are only going to get what you put in. Infusionsoft is a great fit for someone who is going to put forth the effort required to feed the machine. Tools are just tools. They need to be fed with content, reviewed with careful analysis and doused with elbow grease.
Got a Question? Just Ask.